Press quotes:
"Much of it was transcendant."
– lucid culture –
---
"[TransAtlantic Ensemble has] created a new dictionary entry for "classical music"."
– feast of music –
---
"When Ulex took a solo turn on piano, she displayed technique that made me rethink the limits of human potential."
---
"…talent that can only be described as transformative"
---
"Transatlantic Ensemble is redefining classical music, making it accessible and relevant to our times. By adding elements of jazz and Latin music, they create a global sound that everyone can relate to."
---
"…guaranteed to make you smile"
---
"Transatlantic Ensemble's superb musicianship combined with their comfortable and cool stage presence makes them a joy to behold."
---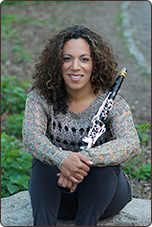 MARIAM ADAM, Clarinet
"Mariam Adam plays with amazing versatility, yet beauty of sound"
– American Record Guide
"Mariam Adam evoked human-sounded wailing, achingly-cool dance rhythms and uninhibited emotion…"
– Washington Post
Mariam Adam, born in Monterey, California to an Egyptian father and a Mexican mother, lives between New York and Paris, a composite of influences that has shaped her musicianship and collaborations worldwide. She has performed with Wayne Shorter, Chick Corea, Paquito D'Rivera, Yo-Yo Ma, Eric le Sage, Claudio Bohorquez, Simon Shaheen, Kuss Quartet, Gil Kalish, Ann Marie-McDermott and in such venues and series as Carnegie Hall, Hollywood Bowl, Walt Disney Hall, Jordan Hall, Kennedy Center, San Francisco Performances, Wigmore Hall, Paris' Cité de la Musique, Beijing Performing Arts Center, Bremen Musikfest, Jazz a Marciac and France's pre-eminent Folle Journee.
A founding member of the Grammy-nominated woodwind quintet, Imani Winds, she has maintained an active international touring schedule for over 15 years. The quintet is a pillar in the classical music community, unparalleled in developing the wind quintet to a new level through virtuosity, style, repertoire and engaging programs.
Besides her career with Imani Winds, Mariam has been invited for solo recitals and chamber music concerts in such prestigious venues and festivals as Chamber Music Lincoln Center, Burlington's Lane Series, Chamber Music Northwest, Skaneatles Festival, Chenango Festival, Fontana Arts, La Folle Journée Festival in Nantes, Théâtre de l'Archipel in Perpignan, Musica da Curitiba-Brazil, and various festivals and series in the United-States, Europe and South America. As a soloist, she has played with the Sacramento Symphony, the Monterey Symphony and Prince George Philharmonic.
Her clarinet/piano duo TransAtlantic Ensemble, an official Steinway Ensemble, specializes in commissions of crossover styles, standard repertoire and presents their concerts in unique formats throughout Europe and the United-States with original works by Paquito D'Rivera, Miguel del Aguila and many more. In 2010 she started the AdZel Duo with clarinetist Stephanie Zelnick performing works celebrating their combined heritage from the Middle East. Their music covers the conflicting yet homogenous cultures through special commissions and master classes on an international scale.
As an educator she has been invited to give master classes throughout the United States, Mexico, Spain, Switzerland, London, Costa Rica, Brazil, Colombia, France, China and Germany at the top conservatories. She is currently Ensemble-In-Residence at the Mannes School of Music in New York.
Mariam has recorded 7 albums with Imani Winds (Koch Classics, E1°) before being signed by EMI for their exciting wind quintet version of the Rite of Spring which was selected in 2013's Best of iTunes. She can also be heard on Chick Corea's "The Continents", Wayne Shorter's "Without a Net", Steve Coleman's "Ascension to Light" and Mohammed Fairouz 's "Native Informant".

Mariam Adam is an exclusive Selmer Artist on the Privilege series and an advocate for the arts as Vice President of the Board for Chamber Music America.
---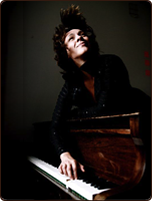 EVELYN ULEX, Piano
"Ulex played Liszt's Piano Concerto No.2, her harp-like arpeggios sweeping across the keyboard drew in the audience from the start. Her charisma simply was unstoppable."
– Classical New Jersey Society Journal
Pianist Evelyn Ulex was born and raised in Berlin, Germany. At the age of ten, she won the national "Festival of Young Talent" in Dresden, later taking top awards in the J.S. Bach competition in Leipzig, Germany. Ulex holds degrees from Berlin's University of the Arts as well as the acclaimed Folkwang Hochschule in Essen, Germany where she did her Concert Examen studies in the Master Class of Professor Boris Bloch.
Ms. Ulex, a finalist for the Frienna Awerbuch International Piano Competition in New York City, is an established pianist in both the United States and Europe. Highlights of recent seasons include appearances in New York City at Carnegie Hall, Le Poisson Rouge, Public Library for the Performing Arts, Symphony Space, 92nd St. Y, Steinway Hall, National Arts Club, the Metropolitan Museum of Art, International Pianofest in the Hamptons, Summer Festival at Rutger's University, Imani Winds Festival at Juilliard and Mannes School, Berlin's Konzerthaus, Berliner Philharmonie, Goethe Institutes, German and American consulates around the globe.
An active chamber musician who continues to explore musical genres, Ms. Ulex has collaborated on a number of special projects such as "Sight & Sound," a live concert featuring projections of paintings by Berlin artist Ade Frey. The images projected provide an emotional response to Ms. Ulex's performance of music by Modest Mussorgky's "Pictures at an Exhibition", Schumann and Villa Lobos. Audiences in New York, Atlanta, Barcelona, Valencia and Berlin have all been enthralled by this singular multi media experience.
Ms. Ulex also collaborates with Brazilian soprano Katia Guedes. The result is an inspired new album "The Brazilian Classical Song", recently released on the Tango Malambo Label. The album contains music which spans over 200 years of classical Brazilian Song repertoire.
As a founding member of the TransAtlantic Ensemble, Ms. Ulex performs with American clarinetist Mariam Adam.TransAtlantic Ensemble's latest recording for the Steinway label will be released Summer 2016.
In addition to performing around the world, Ms. Ulex has been commissioned to record for Steinway & Sons new Spirio, the world's finest high resolution player piano.
Ms. Ulex has been featured on Berlin Radio's "Artist Portraits" series, WWFM and can be heard on E1 Entertainment (Koch classics), Tango Malambo and Eroica. As Steinway artist Ms. Ulex divides her time working out of New York City and Berlin.